Diva Dog House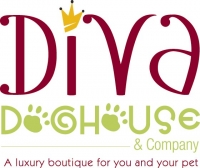 We Love Your Pets at Diva Dog House Upscale Pet Supplies Franchise
Everyone knows that a dog is a persons best friend, but did you ever stop to think about how much we spend to make our best friends happy? According to the American Pet Products Association, overall spending on pets increased more than 5 % in 2009 over 2008 not bad for a recession year. The subcategory of pet supplies reached more than $10.4 billion in 2009.
The industry expects another 5% overall growth in 2010. Not surprising when you consider that more than half of pet owners say they buy holiday gifts for their pets.
With an estimated 45.6 million US households having at least one dog and 38.2 million households with at least one cat, (National Pet Owners Survey 2009-2010), now is a great time to be in the pet specialty retail franchise business.
As a Diva Dog House retail pet supply franchise owner, you will operate an upscale, luxury boutique that appeals to dog and cat lovers. Your pet store will be ideally located in an upscale retail location (strip, mall or lifestyle center) or other high traffic area with adequate parking.
Not Your Ordinary Pet Supply Store
Your Diva Dog House retail pet franchise will cater to each customer and provide excellent customer service. Some of the unique features of our store make shopping a fun experience:
Pets are welcome water bowls and free treats are always available for furry shoppers.
Attractive displays customers are encouraged to touch and feel the merchandise.
Displays change regularly we keep the items fresh and invite customers to return often.
In addition to designer collars and harnesses, decorative bowls and plush bedding, Diva Dog House Products include pet couture, travel needs, organic, non-toxic dog toys, natural spa products, and organic pet foodand all natural bakery treats. Diva Dog House retail pet stores also host special events, such as Yappy Hour, Humane Society programs, and breeder events to encourage foot traffic and good will in the community.
Two Retail Business Opportunities
You can operate a retail pet supply store only, or you can offer pet spa and grooming services at your location. Pet grooming and boarding is another growth industry with over $3.3 billion in revenue in 2009.
Franchisee Training and Support
Training for you and one assistant begins at one of ourcompany-owned locations in Florida or Georgiawhere well cover the basics of operating your Diva Dog House pet supplies franchise.
Administrative
Operations
Sales and Marketing
In Store Training
Well also be on site with you for a week as you open your store, and will provide ongoing support and training.
We are looking for people with strong experience in sales, customer service and management. Reliable, upbeat and friendly pet lovers please clickContact Me,to learn more about joining the Diva Dog House franchise family.
This franchise is not available in New York.
Year Established: Value 1
Total Units Operating: Value 2
Cash Investment Required: Value 3
Total Investment Required: Value 4

Minimum Net Worth Required: Value 5
Franchise Fee: Value 6
Financial Assistance Offered: YES / NO
Training and Support: YES / NO