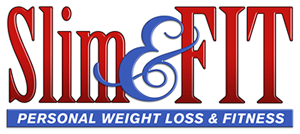 Overview
Jaime Brenkus Slim & Fit Personal Weight Loss & Fitness system creates a unique weight loss experience that inspires women and men to achieve and maintain their individual health goals. A Slim & Fit Franchise assists clients in achieving their vision by promoting healthy living solutions through the unbeatable combination of effective nutrition, behavior modification and an individualized, efficient exercise program.
The client receives a customized nutritional plan based on their current lifestyle. This menu system was scientifically designed by a Licensed Registered Dietitian.
Each weeka client enhancestheir goals and objectives by meeting a FIT TRAINER to shape up,and a SLIM COACH to trim down. A substantial number of clients will not participate in the Fit Training but will come in weekly to meet with their Slim Coach and pick up their following weeks meals.
The fitness programs are developed by the founder of Slim & Fit, and nationally recognized fitness advocate, Jaime Brenkus. Jaimes trademarked, FITNESS FUSION workout program fuses cardiovascular exercise with resistance training, and provides a routine so the clients will firm and tone while they drop inches and weight.
Slim & Fits success is attributed to a simple A, B, C solution ..
A -Accountability
B -Behavior Modification
C- Continuity products

Besides the fitness training sessions and nutrition counseling, there are sales of ancillary products sold by each Franchise; prepackaged meals, nutritional bars, shakes, vitamins and Perfect Portions, a patented portion control plate.
Background - Jaime Brenkus, Founder
Considered by many to be an innovator and fitness guru, Mr. Brenkus first gained national acclaim for his 8 MINUTE ABS workout, and later went on to design supermodel Kathy Irelands Body specifics and Reach workout videos.
Emulating his hero and personal role model, Jack LaLane, Jaime has used his celebrity and hands-on approach in motivating million s to achieve their fitness goals over the past 24 years.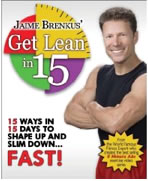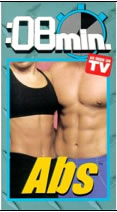 As an amateur athlete, Jaime realized early in life that lean body mass was critical to performance. This fascination, or rather obsession, initiated Jaimes journey of self-awareness and discovery in fitness/holistic wellness.
Finding his niche as personal trainer in the early 80s, Jaimes knowledge, enthusiasm and passion quickly separated him from his peers. Multi-media coverage followed and Jaime was soon identified by his popular mantra Im out getting the Country in great Shape!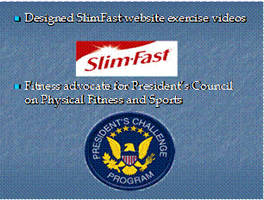 Jaimes life experiences as an educator, fitness trainer, and coach have all contributed to his development of original ideas (Get Lean in 15) and products (The Perfect Portions Diet Dish) that have enabled his clients to adopt, and more importantly, sustain a healthier and happier lifestyle.
A fitness crusader dedicated to assisting individuals of all ages, gender and ethnicity, Jaime has decided to take his show (and message) on the road.Jaime is launchinghis Slim & Fit Franchise Concept,and people across the country will now have the opportunity to take action and join Jaime in living lifes ultimate fitness experience!
Jaimes mission is to impact others. Whether your goal is losing weight, increasing muscle density, or improving cardiovascular endurance, Jaimes no-nonsense approach to fitness provides solutions in helping others reach optimum mental and physical harmony.
In addition to his long list of client testimonials, Jaime served as a member to the residents Council on Physical Fitness & Sports, and was also recognized by former Surgeon General, C. Everett Koops during the SHAPE UP AMERICA campaign.
Jaime currently maintains his certification as a Health and Fitness Instructor from the American College of Sports Medicine (ACSM), and continues to study and apply the most progressive information/techniques offered in diet/exercise as he continues to evolve as the nations top fitness trainer.
Target Market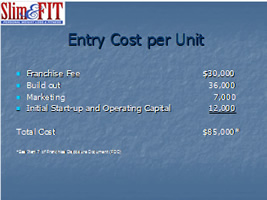 The health and fitness market is highly fragmented. There is substantial opportunity for sustained growth within this segment which in itself is a Multi-Billion Dollar Booming Industry. Current health care legislation will focus even more attention on those overweight as obesity is quickly replacing smoking as the public health enemy number one of the future. Weight loss alone in the United States is a $100+ billion dollar industry annually. It is estimated that more than 2 our of 3 Americans are 30+ pounds overweight. Industry Growth in servicing the demand in this sector is projected to $500 million in the next 4 years from over 100 million potential new customers.
There are hundreds of gyms out there, and just as many nutrition centers such as Weight Watchers, Jenny Craig, and Nutrisystems. Slim & Fit combines both of these target markets into one package providing 1 on 1 counseling and fitness training. The Slim & Fit method takes less time, guarantees results and is CHEAPER!
Unlike typical gyms that require 100s of members per month to succeed, the Slim & Fit franchise does not demand large penetration numbers to be successful. Ten clients a month can support the franchise model with a goal of 50 clients per month for the top performing locations.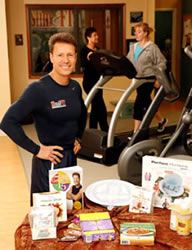 The Slim
The client receives a customized nutritional plan based on their current lifestyle.
n This menu system was scientifically designed by a Licensed Registered Dietitian.
n Each weeka client enhancestheir goals and objectives by meeting aSLIM COACH to trim down.
The Fit
Jaimes trademarked, FITNESS FUSION is a FIT COACH supervised workout program that fuses:
Cardiovascular Exercise with
Resistance Training
Fitness Fusion provides a routine so the clients will firm and tone while they drop inches and weight.
Complementing their prepackaged meals, nutritional bars, shakes, vitamins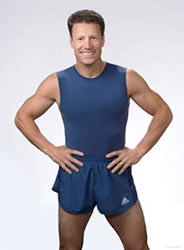 Year Established: Value 1
Total Units Operating: Value 2
Cash Investment Required: Value 3
Total Investment Required: Value 4

Minimum Net Worth Required: Value 5
Franchise Fee: Value 6
Financial Assistance Offered: YES / NO
Training and Support: YES / NO