The Tutoring Club.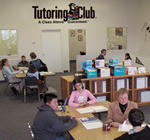 Change your LIFESTYLE! - Introducing a SMARTER WAY to LIVE
Tutoring Clubs are changing the face of private education in America today. Offering exclusive TutorAid programs, Tutoring Clubs provide innovative growth opportunities for those who believe better quality education is a cornerstone of life success.
With a guarantee to improve academic performance in less time and at a lower cost than any other program, Tutoring Clubs are enrolling new students in markets of every size throughout the country. Backed by a national brand marketing campaign, Tutoring Clubs are ranked today as one of America's fastest growing franchises.
Now is the time to find out more about joining Tutoring Clubs of America in the emerging private education market. And start learning how we can help you change your life.
Join America's FASTEST GROWING FRANCHISE in the Private Education Industry.
This is a GROUND FLOOR OPPORTUNITY with Great Locations Still Available.
Tutoring Club success is measured one franchise at a time. Through uniformity and consistency, Tutoring Club is building a national brand name that stands for educational success. Educational experience is not required to become a Tutoring Club franchisee.
Tutoring Club's exclusive Tutor Aid software makes all the educational decisions. TutorAid software manages all student information: creating, monitoring and updating lesson plans daily. These lesson plans are then implemented by qualified teachers. Also within the TutorAid software is a complete financial software program designed specifically for Tutoring Club finances.
With Tutoring Club you obtain the freedom of ownership, with the benefit of proven support.
Type of Business - Individualized education service for students from kindergarten through adult. All services are performed at campus locations.

Franchise Fee: $34,500
Start-Up Cost: $48,650 - $91,300
Royalty Fee: 10% of Monthly Revenue
Training: Comprehensive training for 2 people at Tutoring Club Headquarters
Support: On-site field support from Tutoring Club personnel and annual conference
Qualifications: Background in sales management, and/or education desirable
Benefits of a Tutoring Club Franchise:
Monday - Thursday
20-30 hour work week
No night or weekend worries
TutorAid software which manages all student academics
Complete accounting program developed specifically to manage your campus finances
No accounts receivable
No inventory to spoil
Perform a service for children and the community
Strong training and ongoing support from a Franchisor that is interested in your success
National consumer marketing campaign
If you are ready for a rewarding change, take the next step and contact us today!
Year Established: 1991
Total Units Operating: 183
Cash Investment Required: $34,500
Total Investment Required: $83,150 - $125,800

Minimum Net Worth Required:
Franchise Fee: $34,500
Financial Assistance Offered: Third Party
Training and Support: Two week training for two people at Discovery Bay, CA headquarters